Pembroke Medical Group
Pembroke House Surgery, 266-268 Torquay Road, Paignton, Devon, TQ3 2EZ | Tel: 01803 553558 | enquiries.pembrokehouse@nhs.net
We're open
Parkhill Surgery, Parkhill Road, Torquay TQ1 2AR | Tel: 01803 212489 | enquiries.pembrokehouse@nhs.net
We're open
Latest News (click title to open):
ROAD WORKS!
From Monday 26th February, CORMAC Contracting Ltd on behalf of Torbay Council will be carrying out essential reconstruction and resurfacing work on Torquay Road.
CORMAC Contracting Ltd have provided us with details of the work and the schedule which we have shared with you below.
During the first 2 days minor alterations will be made to the road layout in order to make enough space for traffic to pass through, once this is done, a lane closure will be put in place.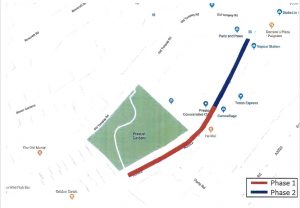 The above map shows the area of the works and that the work has been split into 2 phases in order to minimise disruption to homes and businesses adjacent to the site.
Once the excavation of phase 1 is complete, the lane closure will be extended to encompass both phases 1 and 2 phase 2 of the works.
The asphalt layers of phases 1 & 2 will be reinstated at the end of the works.
In order to allow traffic to flow past the site, no parking will be allowed adjacent to the works.  This area will be marked with yellow cones.
For alterations to the above dates please refer to the advance signage erected on site.
Please do not park on, or obstruct the road surface or pavement for the duration of the works.
Your co-operation in this matter will be appreciated.  CORMAC Contracting Ltd would like to apologise in advance for any inconvenience and/or disruption.
Pembroke House
Monday
08:00 until 18:00

Tuesday
08:00 until 18:00

Wednesday
08:00 until 18:00

Thursday
08:00 until 18:00

Friday
08:00 until 18:00

Saturday
CLOSED

Sunday
CLOSED

Parkhill Surgery
Monday
08:00 until 18:00

Tuesday
08:00 until 18:00

Wednesday
08:00 until 18:00

Thursday
08:00 until 18:00

Friday
08:00 until 18:00

Saturday
CLOSED

Sunday
CLOSED